New Year New Room Challenge Week 3
Week 3 of the New Year New Room Challenge brings procrastination and inventory challenges.
Welcome to week three of our New Year New Room Challenge! If you're just joining us, don't worry, it's not too late to jump in. This is the perfect opportunity for DIYers looking to refresh any room in their home and make a statement within budget. Whether you are tackling an entire renovation project or freshening up an area with a few small changes, our challenge can be adapted to your project. So grab your toolbox and get ready–it's time for week three!
So this past week was met with multiple challenges. And to say I'm a little behind might be a bit of an understatement. A few of the key pieces that we ordered didn't arrive as planned. Add that to the fact that myself and my aunt were trying to do a million things on top of our full-time jobs and mom duties. So I wasn't able to get over to her house as planned. So I did the next best thing. I started making a mockup of the closet in my garage.
So in my garage, I'm painting all the cabinets I'll be using in the desk setup as well and I am building an open shelf to go above one of the cabinets
I'm building this out of a 1×12 board and adding a face frame using 1×2 boards so that it'll match up once painted. Once I have everything painted I'm planning on staining the desktop and shelf boards.
To better visualize everything I made a quick rough mockup of what I'm aiming for, with a high emphasis on rough. Hahaha
And yes, I know what you're thinking… I really need to learn how to use one of those interior decorating apps. LOL
All I can say is, Thank God there are 5 Tuesdays in the month of January this year. Hahaha
We've made it through the New Year, New Room Challenge Week 3 and although we haven't achieved all that we had hoped for, it's still an incredible feat! Despite the procrastination, supply issues, delivery delays and our busy lives, we are still forging ahead. I am working hard in my garage building out this beautiful room so that once I'm able to get back into the space later this week, I'll only be spending time on installing and hanging wall shelves and wall decor. This has been an incredible journey filled with determination, patience, and hard work. With only a few weeks left until the completion of this project, I urge everyone to keep trucking along with renewed energy. It's crunch time! Let's get this done – together! The moment of accomplishment will be worth every minute put into this project and I'm looking forward to being able to share the finished project with you all very soon.
Check out the progress of the other amazing participants in this year's New Year New Room Challenge hosted by Stephanie of Casa Watkins Living. And See you next Week! I work best under pressure… I think.
Till Next Time. ~T.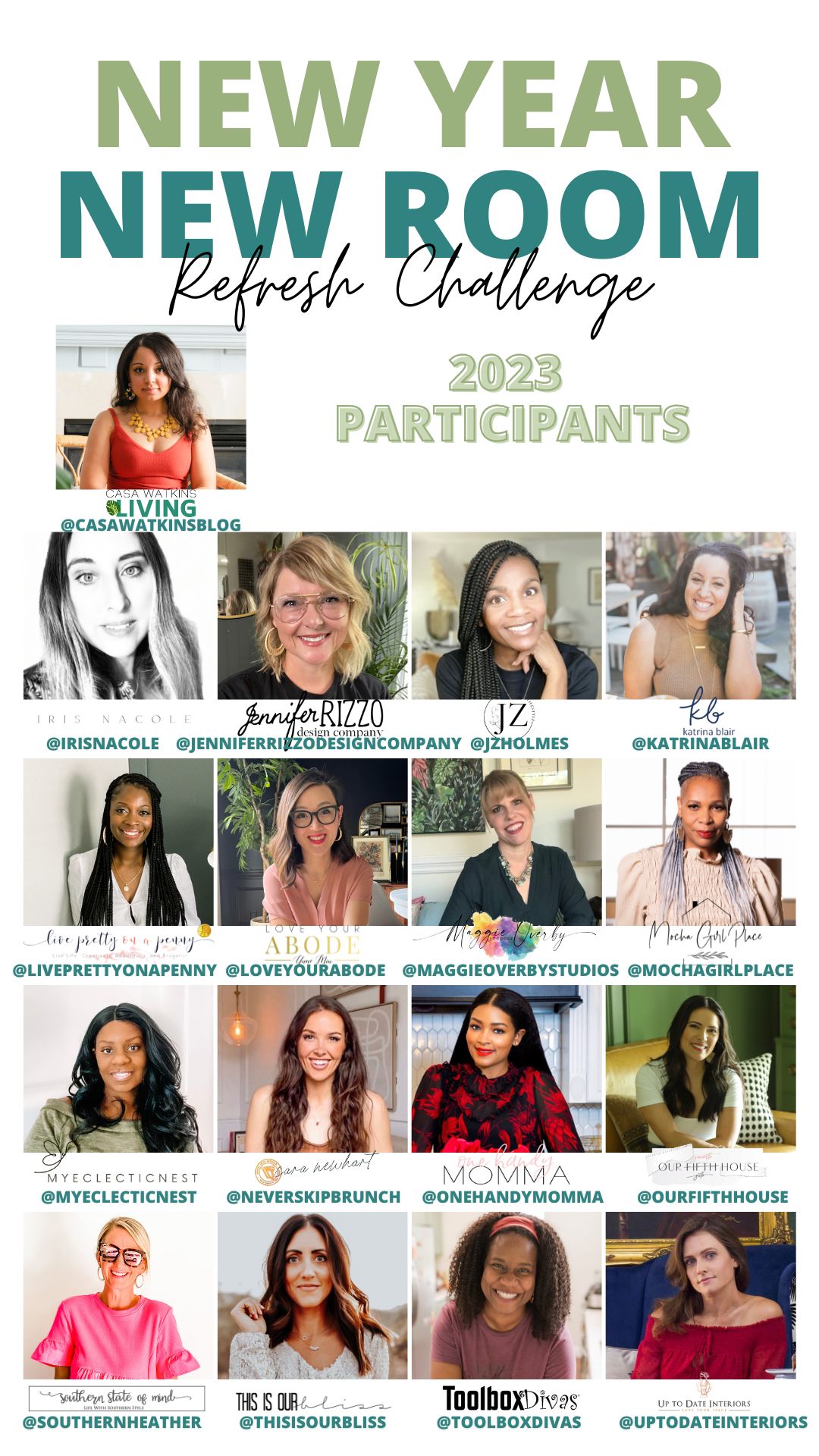 Casa Watkins Living // Iris Nacole // Jennifer Rizzo // JZ Holmes // Katrina Blair // Live Pretty On A Penny // Love Your Abode // Maggie Overby Studios // Mocha Girl Place // My Eclectic Nest // Never Skip Brunch // One Handy Momma // Our Fifth House // Southern State of Mind // This Is Our Bliss // Tool Box Divas // Up To Date Interiors