The 4th of July is perhaps one of the best excuses to throw a great summer party. After all, it's in the sweet spot of the summer calendar where the weather's generally amazing, and the party can last long into the night with the late sunset and the aid of fireworks (that are legal and safe– lit by professionals, in a proper area, with low environmental fire risk). The warm weather lends itself to fun games and activities (cornhole and swimming, anyone?) and some of the best and most flavorful menu options– BBQ, fresh ripe fruits and berries, and pies! And the best part of all, aside from celebrating independence, liberty, and freedom, is that the patriotic decor is something that can be used from Memorial Day straight through the end of summer.
 The thing about the patriotic decor, though, is knowing when to stop. As with any thematic decor, there's a fine line between tasteful and theme park, if you will. Luckily, the Independence Day color palette is simple and very easy to work with, and it's incredibly simple to create your own tasteful accents instead of going overboard with store bought kitsch.
The main safeguard I'd say is to be careful with patterns. Any quick look at 4th of July decoration ideas on Pinterest will show you a wide range of ideas, some very subdued and tasteful and some featuring stripes on stripes on stripes and patterns everywhere and lots of store bought junk just piled together. It really and truly overloads the eye. As much as I'm a fan of power clashing, in this case, the very visually strong patterns working against each other can cause visual distress.
So what types of items do I love to use when setting up a patriotic themed soiree? I'm a huge fan of focus pieces such as one large flag hung the proper way as a backdrop instead of dozens of little flags. The focus piece can then be accented very easily. Gorgeous bunting hung as a swag over railings, or a homemade bunting out of burlap. Paper lanterns are always inexpensive and have an appealing look. DIY lanterns out of old jars are just as good for night time.
On the table, I love the look of red and white carnations in empty jelly jars as table centerpieces, though other flowers could certainly be used, such as geraniums which can be sent home with guests to be planted.
You can even use your food as part of your decor– strawberry and blueberry trifle with whipped cream has a great red, white, and blue thing going for it. As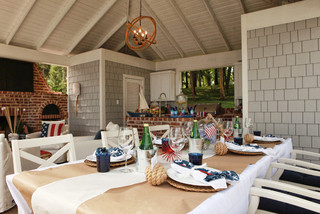 long as the table is kept relatively simple, colorwise, the idea of differently colored and patterned tableware is both exciting and very eye-pleasing. The idea here is to choose a few great pieces and keep the rest simple– no clutter! The lack of clutter means getting to spend more time with your family making s'mores and chasing fireflies instead of cleaning up plastic gobbledegook.
These projects are pretty much no-fail and are great DIY projects that kids can even help with and take pride in when your guests are over. When it comes to great, tasteful 4th of July decor, the sky's truly the limit as long as you remember to use an editing eye, keep it simple, and have fun! Happy 4th of July!